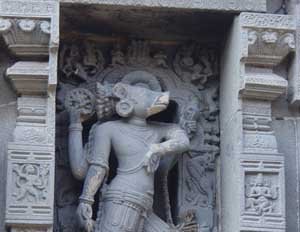 Thursday Features
Parabrahma Prathah Smaranam
Guru Parampara Strotram
Rajarajeswari Astottaranamavali
Rajarajeswari Asthakam
Sri Sadguru Malayala Swamy Stotram
Shirdi Sai Baba Shatanamavali
Dattatreya Shatanamavali
Raghavendra Shatanamavali
Preferred offering to dieties on the day: Sugar
Festivals & Observations
November 16, 2017: Gotri Ratri Vrat, Maasa Sivarati, Vrusthchika Sankranthi
November 18, 2017: Pradeepamavasya, Kaumudyutsaham
November 19, 2017: Anuradha Karthe, Chandra Darsanam
November 21, 2017: Ananta Tritiya, Yoga Tritiya, Rambha Vratam
November 22, 2017: Krushcha Chaturthi, Varada Chaturdasi
November 23, 2017: Naaga Panchami, Puttaparthi Saibaba Jayanthi
November 24, 2017: Subrahmanya Shashti
November 25, 2017: Mitra Saptami, Nanda Saptami
November 27, 2017: Kala Bhairavasthami, Pralaya Kalpadi
November 29, 2017: Sukramaudyami Start, Padardha Vrat
November 30, 2017: Geeta Jayanthi, Mokshada Ekadasi
Recent Articles
Mantras to be recited in Kartika masam day wise
Know about the mantras that are to be recited during the auspicious month of Kartika Masam.
An Analysis on Dhanista Panchakams
A sneak peek into the concept of Dhanista Panchakams
Very strong influence of Mercury in Solar year Vikrutinama Samvastaram
An analysis on how Mercury influences you during the Vikrutinama Samvastaram
How to choose your favorable day and lagna?
A simple mathematical approach to choosing the favorite day and lagna
Transit of Kuja in Karkataka Rasi
A minor vermin or major beast?
Prediction on the formation of Telangana state
An article that takes an astrological point of view on the possibility of Telangana statehood
Sri Sukta – the Vedic mantras to attain prosperity
Importance of Sri Sukta
Kuja stambana and its transit effects on you
Everything you need to know about Elenati Shani / Sade Sani
An insight article on what constitutes Elenati Shani or Sade Sani and the various vedic astrological remedies
The transit of Saturn in Kanya Rasi and its effect on twelve rasis
Remedies for delayed marriages and childbirth
Love Marriages without astrological compatibility
Ketu's results in each house in Kala Sarpa Dosham
Time of birth and its importance in astrology
Get to know what the time of birth reveals about a person
Important aspects to consider for marriage compatibility
A simple check list of various aspects that are considered when evaluating a matrimonial alliance. Also check star signs favorable and not favorable for marriages
Remedial measures for Guru Dosha
A list of must-to activities to get rid of Guru Dosha
Understanding the concept of Adhika masam / Adik masa
List of upcoming Adhika masams till the year 2027
Star signs that are not favorable for marriages
Star sign compatibility is important even before the marriage charts are being looked into
Computing Rahu Kaalam
Simple steps to compute Rahu Kaalam
Thithis and suitable work
Finding the best thithis to do a suitable work
Health, Medicine and Astrology
An astrological analysis with a specific referance to the 8th house in the natal chart
Get gains through Financial Numerology
Understanding the basics of how numerology can be applied in financial decision making
Remedial Measures for various Dasas and Antar-Dasas
Effect of Kuja in Mithuna Rasi and how it helps you
Know Yourselves – How to please the Planets